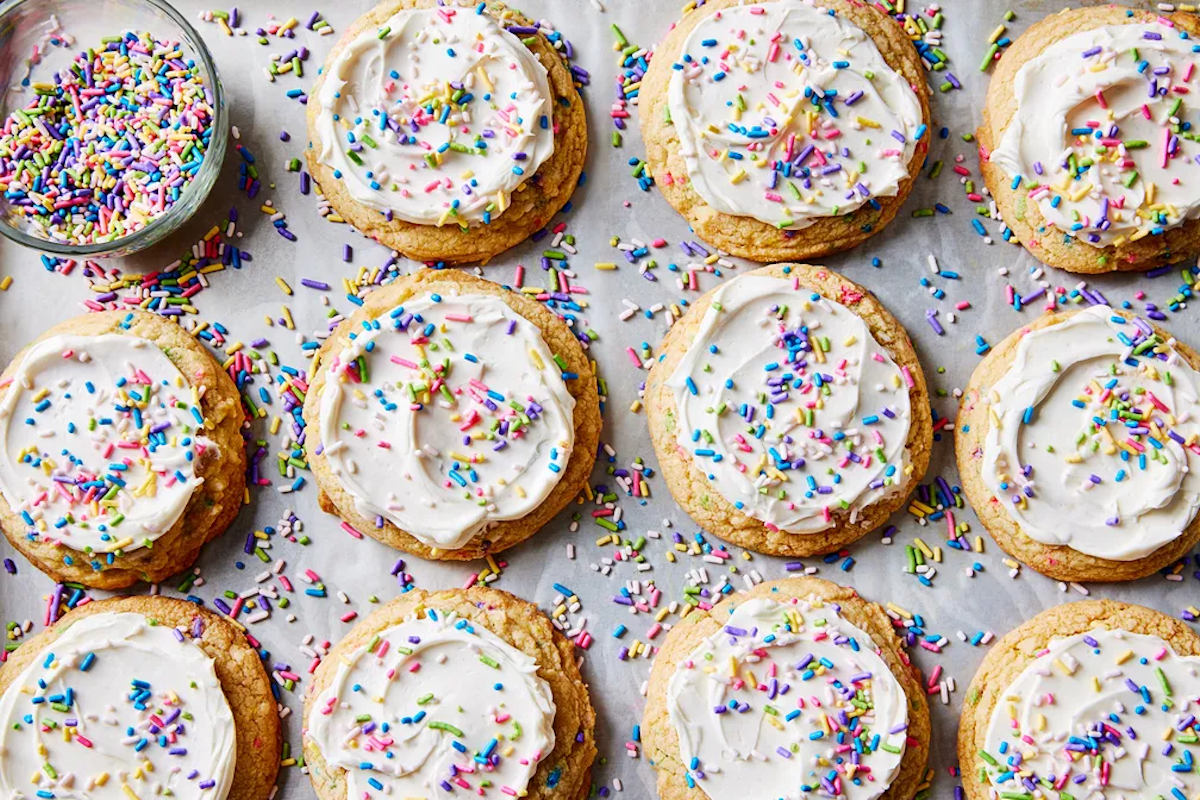 Topped with buttercream, these sugar cookies are perfect for everything from birthdays to lunch boxes
My rolled sugar cookies are deliciously soft, but have a short (more crumbly) texture. This recipe is their chewy cookie cousin, packed with vanilla flavor and tons of sprinkles. Topped with a layer of buttercream, they're perfect for everything from birthdays and bake sales to lunch boxes and snacks. Try poaching the buttercream for an even more whimsical effect.
***
Recipe: Sugar Cookies Sprinkled with Chips
Ingredients
1 1/2 cups (3 sticks / 340 g) unsalted butter, at room temperature
1 cup (113g) icing sugar
1/2 cup (99g) granulated sugar
1/2 cup (106 g) light brown sugar
1 large egg (56 g), at room temperature
1 large (21 g) egg yolk, at room temperature
2 teaspoons vanilla extract
3 3/4 cups (450 g) all-purpose flour
3/4 teaspoon baking soda
3/4 teaspoon fine sea salt
1/2 cup (65 g) sprinkles, preferably confetti-shaped, plus more for garnish
1 recipe Italian buttercream
directions
Preheat oven to 350°F/175°C with oven racks in upper and lower thirds of oven. Line 3 baking sheets with parchment paper.
In the bowl of an electric mixer fitted with the paddle attachment, cream the butter and sugars on medium speed until light and fluffy, 3 to 4 minutes. Add the egg and stir to combine. Scrub the bowl well.
Add egg yolk and vanilla and mix well on medium speed until evenly incorporated. Scrub the bowl well.
In a medium bowl, whisk flour, baking soda and salt to combine. Add about half of this mixture to the mixer and blend on low speed to incorporate the flour, then blend on low speed to combine. Repeat with the rest of the flour.
Add the nuggets and mix on low speed until evenly dispersed.
Divide cookie dough into 2 tablespoon-sized rounds and place on prepared baking sheets. Stagger the rows of cookies as you place them and leave 2 inches/5cm between each cookie to allow room for spreading. Use your fingers to gently press down on each mound of dough to flatten it slightly.
Transfer to the oven and bake until the cookies have spread and are very lightly browned around the bottom edge, 12 to 14 minutes (for a softer cookie, bake for 10 to 12 minutes and remove before you see much browning). Turn the plates halfway through cooking.
Cool completely on the baking sheet, then frost with buttercream and garnish with more sprinkles.
---
Test the cooking notes
Bake It Up a Notch is a column by Resident Baking BFF Erin Jeanne McDowell. Each month she will help us take our baking game to the next level, teaching us all the necessary tips and techniques and pointing out any mistakes to avoid along the way.