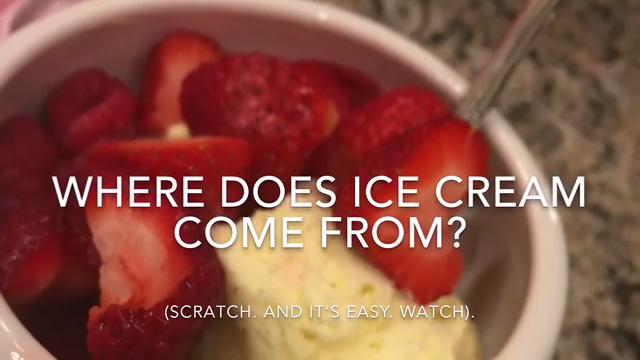 Summer means time for homemade ice cream
I love vintage items as much as I love the next flea market aficionado. So when I saw a homemade hand crank ice cream maker for sale on the internet, I got blown away. "Make ice cream the old fashioned way!" took me even further. When I saw the price close to $ 200, my interest turned to disbelief. Obviously, the makers never spent hours out on a sweltering Mississippi summer day wrapping rustic models of the past with rock salt, ice, and newspapers, then cranking the crank for hours. . I didn't buy the expensive ice cream maker, but reading about it awakened childhood memories and resurrected favorite homemade ice cream recipes.
First of all, a word about ice cream makers. My current favorite is the Cuisinart yogurt, ice cream and frozen sorbet maker. No crank on this compact machine, which sells for under $ 100 at kitchen stores. Just freeze the inner bowl, add the ingredients and flip the switch.
Two favorite recipes that keep me going for the summer are Orange Crush and Cheesecake. The beauty of the first two-ingredient recipe is that it can be made in an ice cream maker or if you don't have one on hand, a freezer will do.
Combine two 14-ounce cans of sweetened condensed milk with a 2-liter bottle of Orange Crush. Use a hand blender to mix the ingredients well, then add them to the ice cream freezer container and freeze according to the manufacturer's directions.
Following:Redo easy restaurant meals anytime
Following:Can't go to the beach? Try tropical dinners at home
Or, even simpler, pour into a 13×9-inch baking dish and freeze to a stiff mush, about an hour. Break into pieces and return to the mixing bowl. Beat until smooth, then return to the pot and cover. Refreeze until firm, an hour or two.
Kids of all ages – and I include myself in the warning – love Ice Cream in a Bag.
In a quarter-sized Ziploc bag (I recommend the brand name), add a cup of whipping cream, two teaspoons of sugar, ⅛ teaspoon of vanilla and three tablespoons of your flavor favorite (I use canned peaches.) Close the bag.
In a gallon-sized Ziploc bag, add five cups of crushed ice and ¾ cup of rock salt. Place the small bag with the cream in the larger bag with ice and close the larger bag.
Shake and squeeze for 10 minutes or until the cream begins to harden and turns to ice cream. Remove from bag and serve. If you prefer a firmer consistency, place it in the freezer for 30 minutes or more.
I professed my obsession with Blue Bell ice cream. It's hard to beat any flavor in this freezer treasure. Each is delicious, but Banana Pudding is in my Top Five. Imagine my joy when I found a cake recipe that contained elements of both my favorite dessert and ice cream flavor. Enjoy a fresh slice with the perfect accompaniment: a bowl of delicious ice cream, of course.
Kara Kimbrough is a freelance writer and lecturer at the University of Southern Mississippi. She can be contacted at [email protected]
Bananas, pudding, ice cream and cake delight
1 can of vanilla cake mix
¼ cup vanilla pudding mix
1 cup of sweetened condensed milk
1 teaspoon of vanilla extract
Cup of crushed Nilla wafers for filling
2 bananas, sliced, divided
½ cup crushed Nilla wafers for garnish
20-22 whole Nilla wafers for garnish
Cake Layers: Prepare cake batter according to package directions. Divide between the prepared cake pans and bake in the oven until cooked through, about 30 minutes. Let cool in pans for 10 minutes, then return to cooling racks to cool completely.
Ice Cream Layer: In a blender with the whisk, beat the cream until stiff peaks form. Stir in pudding mix, sweetened condensed milk, vanilla, a cup of crushed Nilla wafers and three-quarters of the banana slices, reserving any leftovers.
Assembly: Add a layer of cake to the serving dish. Spread half the ice cream mixture over the cake, then cover with a layer of whole Nilla wafers. Top with the second layer of cake, then spread the rest of the ice cream mixture on top. Top with more crushed Nilla wafers, whole Nilla wafers and remaining banana slices. Freeze until ice cream is firm, about 4 hours.