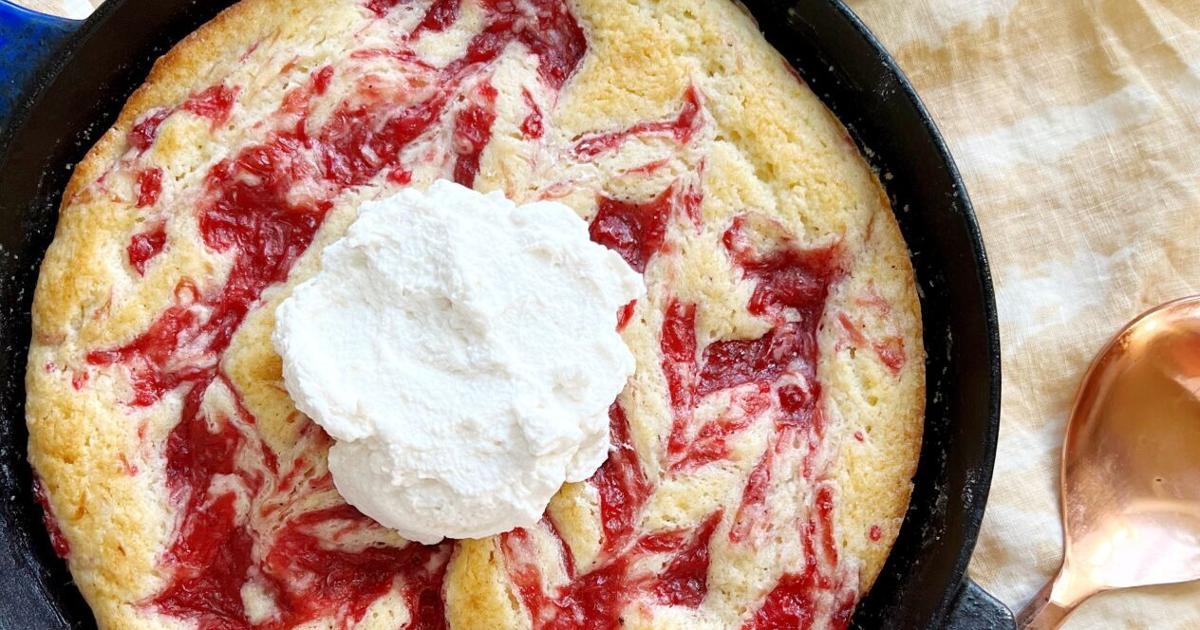 Salt and Stone: Rhubarb Spoon Cake | Magazine
It's a well-established understanding among my family and friends that I love cake. I love baking cakes as much as I love eating cakes. Fruit, chocolate, vanilla and everything in between suits me perfectly. Although, if it's up to my husband and kids, they'll always ask for chocolate, and if that's my choice, I'd probably always choose something fruity.
A few weeks ago I was asked to make a dessert for the Southwest Rotary Auction fundraiser. I enthusiastically agreed and immediately started imagining what kind of cake I wanted to make.
A few trial and error later, I had made a nice vanilla cake with a rhubarb compote. I also used the compote in the frosting which gave it the prettiest light pink color. I decorated the cake with honeysuckle flowers and some lavender from my garden. We almost drove across town to the auction when I realized my creation was still in the fridge at home.
My rhubarb plant was the first to show signs of life in my garden this year, and it produced its ruby ​​red stalks all summer. The more I cut it, the bigger it gets.
I'm having a moment with rhubarb this year; I can't get enough of the tangy, tart flavor made sweet and delicious with just a little sugar. And, even with the addition of sugar, the brilliance of rhubarb translates into any dish. I made rhubarb simple syrup for summer cocktails, some strawberry rhubarb crisps, and after my fiasco with the cake I made for the auction, I only had some redo one.
This time I decided to keep the recipe much simpler. A skillet cake is the perfect "everyday" treat, as it bakes a single layer cake that's perfect for sharing with family or friends, yet it's not fussy or awkward to handle. Instead of frosting, a bowl of perfect homemade whipped cream is all you need to top this sweet treat.
This cake is rustic (a nice term for imperfect), absolutely delicious, and worth the few steps it takes to make the various components. A quick rhubarb compote takes a few minutes to mix on the stovetop before a simple vanilla cake is tossed and swirled with the rhubarb. The end result is a gooey, flavorful dessert that's perfect for summer nights and best shared with your favorite people.
Rhubarb spoon cake
• 1/2 cup unsalted butter, melted
• 1 cup all-purpose flour
• 2 teaspoons of yeast
• 1/2 cup granulated sugar
• 1/2 teaspoon of salt
• 1 large egg
• 1 teaspoon of vanilla extract
• 1/2 cup whole milk
• 1/4 cup sour cream
• Stewed Rhubarb
• Whipped cream
Preheat the oven to 400 degrees. Coat a 10 inch cast iron skillet with butter and dust with flour, shaking off any excess flour.
In a medium bowl, combine flour, baking powder, sugar and salt. In another bowl, whisk together the egg, vanilla, sour cream and melted butter. Gently stir the wet ingredients into the dry until incorporated.
Pour about two-thirds of the compote into the prepared pan and spread evenly. Pour the cake batter on top, spread evenly, then place the rest of the rhubarb compote on top. Use a butter knife to swirl the compote with the cake batter.
Bake until a knife inserted in the center of the cake comes out clean, about 25 minutes. I like to serve this hot, straight from the pan with a big spoon and a bowl of whipped cream to spread a dollop on top.
Stewed Rhubarb
• 4 cups chopped rhubarb stalks
• 3/4 cup granulated sugar
• 1 teaspoon of lemon zest
• Juice of one lemon
• 1/2 tablespoon tapioca OR 2 teaspoons cornstarch
In a medium saucepan, combine the rhubarb, sugar, lemon zest, lemon juice and tapioca. Bring to a boil over medium-low heat, stirring, until the rhubarb becomes tender and sauce-like, about 8 to 10 minutes. Remove from heat and let cool to room temperature. Extras can be stored in the fridge for up to a week and used as jam on toast or cookies.
Homemade whipped cream
• 1 pint heavy cream (make sure it's very cold, straight from the fridge)
• 2 tablespoons of powdered sugar
• 2 teaspoons of vanilla extract
• Small pinch of nutmeg
In a stand mixer, whip cream, sugar, vanilla and nutmeg on high speed until soft peaks form. Pour into a bowl and refrigerate until ready to serve.