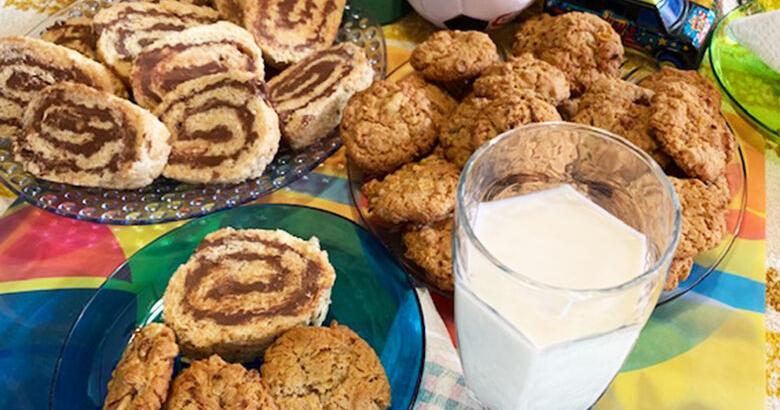 My Leader Yummy – Crispy Chocolate Rolls, Crispy Cornflake Cookies | Receipts
Few kids can turn down a Rice Krispie treat, and this variation can be even more tempting for kids of all ages, and maybe even older folks who are still young at heart.
Instead of pressing them in a pan and then cutting them into squares, these are rolled up like a jelly-roll and cut into slices. Not only do they look prettier, but they have an extra layer of chocolate and peanut butter or chocolate and butterscotch. The treats are ideal for children who want to spend more time outdoors and have a snack with them.
Another treat they'll love to take with them outside are these crispy cornflake cookies. Plus, if you have a friend or loved one in the military and want to surprise them with a homemade treat, these are perfect for sending.
CRISPY CHOCOLATE ROLLS
1 package (10 ounces) large marshmallows
1/4 cup butter or margarine
1/4 cup peanut butter
5 1/2 cups crispy rice cereal
1 1/3 cups semi-sweet chocolate chips
3/4 cup peanut butter or butterscotch bits
Line 15×10-inch pan with waxed paper; grease the paper and set aside.
In a large microwave-safe bowl, combine marshmallows, butter and peanut butter. Cover and microwave on high power for 2 minutes and stir until well combined. Stir in cereal until well coated. Spread into prepared pan.
In a microwave-safe bowl, combine chocolate and peanut butter or butterscotch pieces. Microwave, uncovered, on high power for 2 minutes. Stir. Spread over cereal mixture to within 1 inch of edges.
Roll jelly-roll style, starting with short side, peeling off waxed paper as you roll. Place seam side down on a serving platter. Refrigerate 1 hour or until set.
Cut into 1 inch slices. Makes 10 servings.
CRUNCHY CORN FLAKE COOKIES
1/2 cup sugar
1/2 cup firmly packed brown sugar
1/2 teaspoon baking soda
1/4 tsp salt
1/4 teaspoon baking powder
1/2 cup butter or margarine, softened
1/2 teaspoon of vanilla
1 egg
1 cup all-purpose flour
1 cup rolled oats
1/2 cup flaked coconut, toasted
1 cup Corn Flakes cereal or corn squares
1/2 cup chopped walnuts
Preheat the oven to 350 degrees. In a large bowl, combine the first eight ingredients; mix well. Stir in flour, rolled oats and toasted coconut, then cornflakes and nuts.
Shape into 1 inch balls. Place 2 inches apart on ungreased cookie sheets. Bake 10 to 15 minutes until lightly golden. Makes about 25 cookies.
Brotherton offers website readers one Stellar Recipe per week in the "My Leader Yummy" feature. Looking for a recipe that you can't find? Email me at [email protected] and I'll see if I have it.