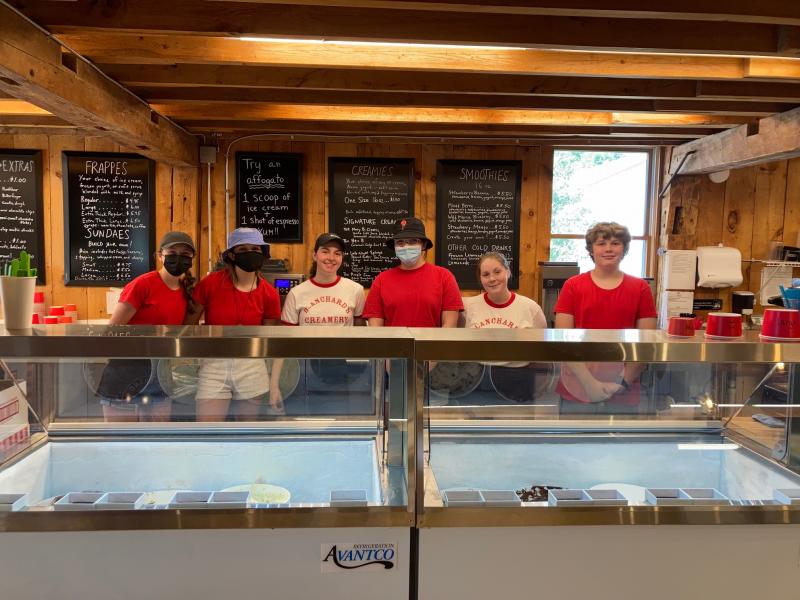 Miles of smiles at Edgecomb's new in-house ice cream shop
All her life, Mary Blanchard loved excellent cooking and baking. Now, she shares her passion for making delicious homemade ice cream and pastries and brings smiles to people with her new business, Blanchard's Creamery. It sells 30 flavors of homemade ice cream, three flavors of frozen yogurt and sorbets, and a variety of baked goods and coffee.
The creamery opened Memorial Day weekend and is open daily from 8 a.m. to 8 p.m. For Blanchard, the creamery is part of a lifelong dream. She added ice cream making to her passion for making people happy and smiling by eating her delicious creations. And for Blanchard, no food makes people smile like ice cream, so she added the delicious cold dairy treat to her repertoire.
Her overwhelming desire to make homemade ice cream came while she was living in Boston and working as a social worker. Blanchard "wanted to do something different" and decided it was time to pursue his dream. She wanted to own a creamery. So, for 18 months, she studied and experimented, mixing milk, cream, sugar and stabilizer to make ice cream.
His next step turned out to be more difficult. She grew up in Newcastle and wanted to operate her creamery in Midcoast Maine. She searched the area for months, but found no place to sell. Then she took a bike ride past an old barn at 660 Boothbay Road in Edgecomb. "I walked past and immediately knew this was the place. It was a beautiful space and the owners were happy to sell as it gave new life to the building.
The next phase was to renovate the barn. She and her life partner, Theresa Brophy, moved to Edgecomb with their son, Ben Blanchard, in October. The timing worked out perfectly as Brophy, a teacher, and Ben, a student, were able to attend the lessons remotely.
During the pandemic, Blanchard was able to focus on renovations with his family living nearby. Now that the business is open, Blanchard can focus on his dream. "I like to see people's faces when they get ice cream. I love to make people happy and it's a great experience, "said Blanchard.
Blanchard makes all the ice cream himself. She estimates that it takes eight minutes to make two 2.5-gallon jars of ice cream. Its ice cream menu includes traditional chocolate and vanilla flavors and new favorites. "Our signature flavors are Mint Chip, Caramel Waffle Crisp and Blueberry Cobbler. We also have some classic Maine favorites. There are grape nuts that have a great old-fashioned flavor with coconut and almond chips, "she said.
Alongside Blanchard, Brophy and Ben Blanchard working at the store are Alex Murray, Carissa Fawber, Baylie Anastasio, Emma Abbott, Remy LeBel, Scarlett Stone, Abby Kopp, Ruby Long, Avery Wheeler and Anunthaya MacDonnell.
And as more and more people come out of their pandemic hibernation, Blanchard's Creamery has seen a steady stream of customers. "The response has been excellent," said Brophy. "The people of Edgecomb have all been very welcoming and kind.
As the new owner, Blanchard learns all aspects of running a business. She also learns the habits and tastes of her customers. A first lesson is that customers prefer vanilla to chocolate.