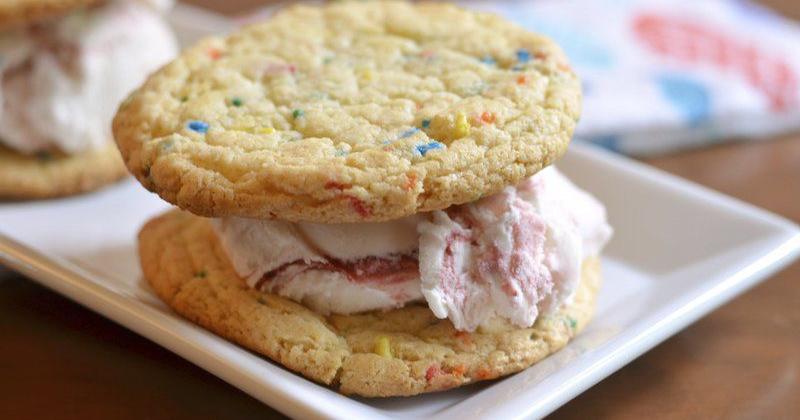 Juliana Goodwin: Childhood happiness recreated through homemade ice cream | Lifestyles
What about ice cream?
Nothing evokes a sense of childhood nostalgia like licking a cone or flicking your tongue between the layers of a melting ice cream sandwich.
Ice cream has the same power as Christmas: when you're in the moment, you feel like a kid. Forget calories, forget clutter – it's just bliss.
If you've never made homemade ice cream sandwiches, you need to start, especially if you have kids or grandkids. I had so much fun with this column, and after baking all the cookies and buying all the supplies, I invited the families on our block to make their own sandwiches.
The advantage of homemade sandwiches is that you are only limited by your imagination. I kept it pretty traditional and made a brownie ice cream sandwich; a birthday cookie filled with strawberry ice cream; then peanut butter cookies with chocolate ice cream rolled into various chocolate shapes like mini chocolate chips, M&Ms or crushed chocolate bars. I also gave the option of stuffing the brownies with salted caramel icing – it's a generic Walmart brand. It was sublime.
But there are so many ice cream options – a mint ice cream would be great in the brownie, as would a cherry ice cream because you'd get a chocolate cherry feel; sprinkles are always a hit with the kids and would go great on the birthday cake sandwich; Rocky Road ice cream would be great inside the brownie or peanut butter.
Here's a brownie trick you should know: I cut mine in half so it wouldn't be too thick, but you need a plastic knife to cut the brownies, it's an old fashioned trick that I learned from my Aunt Carol Goodwin King. A plastic knife won't tear the brownie like a metal knife.
I always want to keep life simple, so I made store-bought brownies; cake mix cookies for the birthday cake cookie (some brands call it funfetti); and then I have an incredibly easy peanut butter cookie recipe.
I love cake cookies because there are so many flavor options without buying any flavoring ingredients; you can use strawberry, cherry, orange, lemon, German chocolate, coconut cake, etc. Follow my recipe, just substitute whatever type of cake you want. I turned the cake cookies into giant sandwiches, which was fun, but you could use a regular sized cookie.
You must cool the cookies completely before assembling them or the frosting will melt, so make them a few hours ahead.
Another thing to consider is the melt factor of your ice cream. If you work quickly, a nice soft serve ice cream is easier to make into a sandwich, but it melts faster too. Harder ice cream doesn't smooth as much, but it doesn't melt as quickly either.
If you don't use all cookies, you can freeze them for another day. So get ready to start a new summer ritual. Hope you enjoy the recipes.
Birthday cake cookies with strawberry ice cream
Makes 6 giant sandwiches
1 box vanilla funfetti cake mix
1/2 cup rapeseed oil
2 eggs
1 pint strawberry ice cream
Preheat the oven to 350 degrees. Line a large baking sheet with parchment paper.
Mix cake mix, oil and eggs until well blended. If you want giant cookies, take 1/4 cup, take a pinch, then flip the measuring cup upside down on the baking sheet, leaving several inches between each cookie. I only put 5 cookies in total on each sheet. You can measure 2 tablespoons for a more modest sized cookie.
Bake 10 minutes (8-9 minutes if making smaller cookies). Cool completely.
Then use an ice cream scoop and place a scoop of strawberry ice cream between two cookies. Serve immediately.
Brownie Ice Cream Sandwiches
1 box brownies, prepared according to package directions
1 plastic knife
Vanilla ice cream
Salted butter caramel icecream
Bake brownies according to package directions in a 9 x 9 inch pan. Cool completely. When assembling, use a plastic knife to cut out a brownie. Then take the knife and run it down the center of the brownie, horizontally, to cut it in half. Try making brownies of the same thickness. Cut the ice cream in between, close the brownie and consume.
Another option is to cut smaller brownie slices and instead of dividing them, smash them a bit to flatter the brownie before making the sandwich.
Chocolate Peanut Butter Ice Cream Sandwiches
Makes 7 small sandwiches
1 cup creamy peanut butter
1/2 cup sugar
1/2 cup brown sugar
1/4 cup flour
1 egg
1/2 teaspoon of vanilla
Chocolate ice cream
Mini chocolate chips
M&Ms or chopped chocolate candies
Preheat the oven to 350 degrees. Line a baking sheet with parchment paper.
Beat or mix peanut butter, sugars, flour, egg and vanilla until smooth. Measure 2 tablespoons, roll them in your hand and drop the balls on parchment paper leaving at least 2 inches between each cookie. Cook 9 to 11 minutes. Cool completely before continuing.
Prepare plates of mini chocolate chips, M&Ms or chopped candy bars such as Butterfingers or Reese's pieces. Scoop chocolate ice cream on one cookie, add another cookie on top, then roll the sandwich in your favorite toppings. Eat immediately.
Juliana Goodwin is the author of "Rotisserie Chicken Queen: 50 Fabulous Recipes That Start With Rotisserie Chicken". If you have a recipe question, email [email protected]