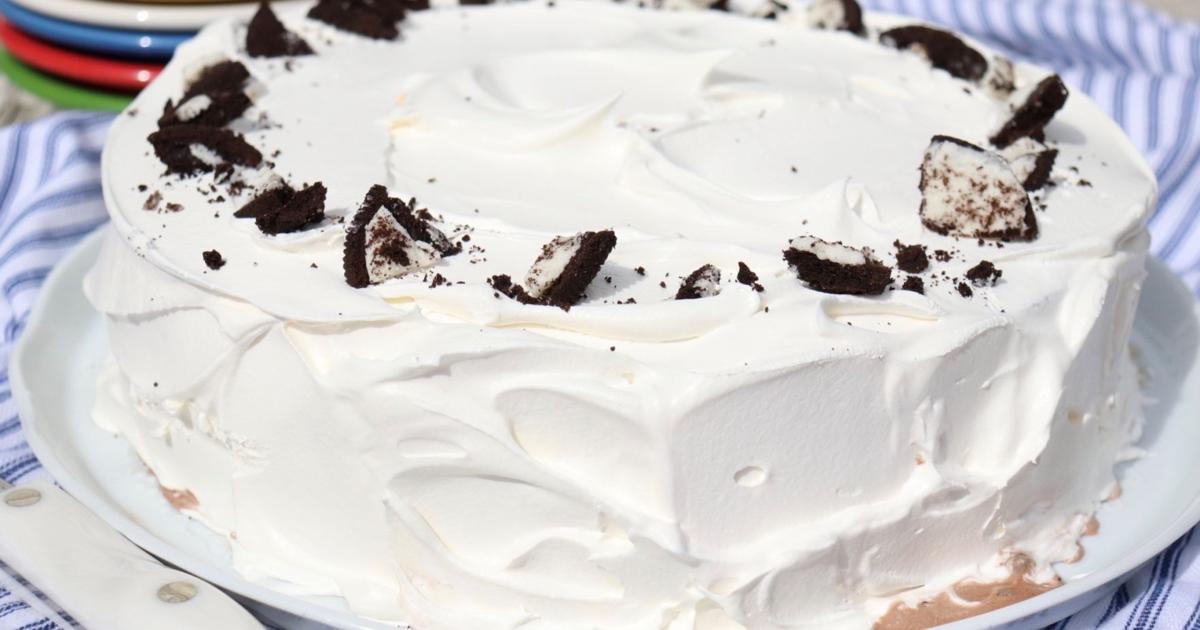 Fountain Avenue Kitchen: Tasty, surprisingly simple homemade ice cream cake | Food
On birthdays and hot summer nights, cakes and ice cream really hit the mark. The following dessert combines the best of both and is my homemade take on a Dairy Queen favorite.
I vividly remember my first piece of ice cream cake.
With lit sparklers, the dessert made a festive start to my elementary school friend's summer birthday party, Mary. As I dug with my plastic fork, the layer of crispy cookies sandwiched between two classic ice cream flavors and topped with a creamy frosting seemed too good to be true.
As a mom, I shared my love of this frozen treat with my kids, serving it regularly for my oldest son's June birthday. Growing up, my youngest son didn't let the little detail of a February birthday stop him from asking for this perennial favorite that really doesn't know a season.
While I would never complain about a store bought cake, they can be pricey, especially when serving a crowd. Likewise, making it yourself allows for customization in terms of ice cream flavors and add-ons; it also allows for allergies to be taken into account, especially with regards to fears of cross-contamination from peanuts and gluten.
When I first started making my own ice cream cakes, I found them surprisingly simple. They require prior preparation, but it can be done in stages which are all very easy.
When serving this cake, I have often been asked where I bought it. Believe me: the compliments are a nod to the recipe's inherent simplicity, not my cake decorating skills! This dessert is a classic example of a few basic ingredients totaling more than the sum of their already tasty parts.
True to the original Dairy Queen, the center of cookie crumbs is covered with a savory layer of chocolate sauce.
I use an easy-to-make hot salty fudge sauce that will keep in the fridge for weeks, so it can be made well ahead. (For a printable copy of this recipe, search by name on Fountainavenuekitchen.com.) You can also use your favorite store-bought option.
Occasionally I vary the flavors of the ice cream or mix the supplements, but find myself reverting to the following proven combination. (That said, I do grant full permission to customize to your liking – and let me know if you find a winning combination!)
Throughout the instructions I include many tips, tricks, and substitutes that have proven to be helpful to me over time. Hope you enjoy it as much as we do.
COPY CAT DAIRY QUEEN ICE CREAM CAKE
Makes 12 servings.
Ingredients:
• 1 (1.5 pint) chocolate ice cream, softened
• 1 container (1.5 pints) vanilla ice cream, softened
• 2 cups (8 ounces or 18-20 cookies) Oreos, finely chopped
• 1 cup hot fudge sauce (in a store-bought 10 to 12 ounce jar, or my hot salted fudge sauce)
• 1 container (8 ounces) frozen whipped topping (such as Cool Whip), thawed
• Optional decorations: crumbled cookies, vermicelli
Directions:
Place a layer of parchment paper on the bottom of a 9-inch springform pan and lightly grease the sides.
(You can cut a round piece to fit the bottom of the pan or, better yet, anchor a larger sheet with the pan ring, allowing the parchment to extend past the sides as shown in the prep photo. tips below).
Spread the vanilla ice cream in an even layer over the bottom of the pan, making sure to fill all edges.
Place in the freezer for at least 30 minutes. Sprinkle cookies evenly over vanilla ice cream, pressing lightly into ice cream.
Spread hot fudge sauce on layer of cookies; if it is cold, you will probably need to warm it briefly, but avoid making it too hot.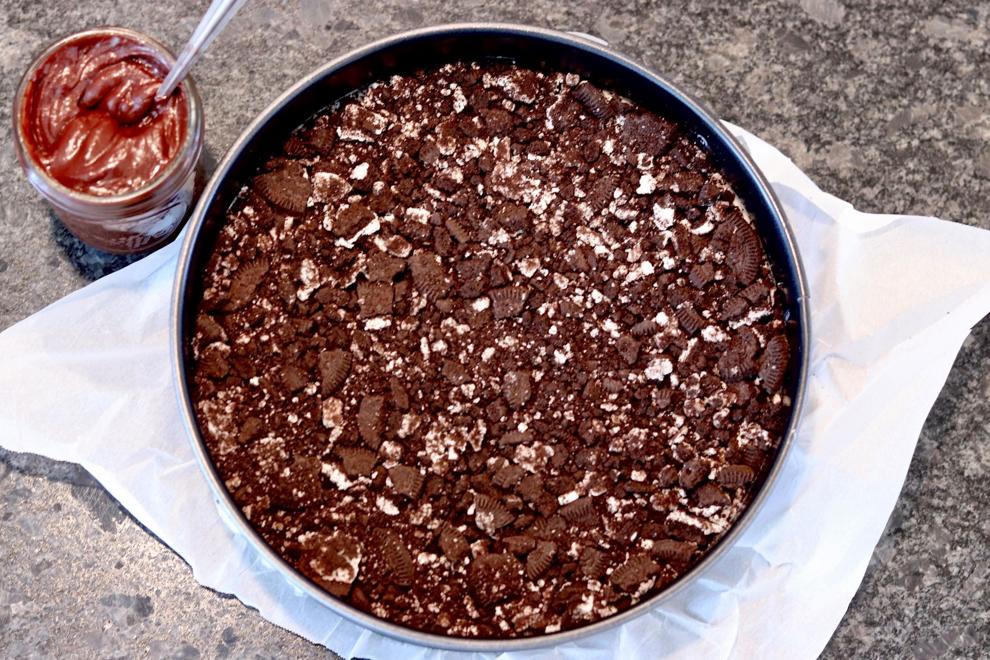 Return to freezer for at least 30 more minutes.
Then spread the chocolate ice cream evenly over the fudge layer.
Freeze for at least 8 hours or overnight.
• Point:
Also place your serving dish in the freezer now. It helps to have a very cold surface for the next step.
At least 1 to 2 hours before serving, unmold the cake. To easily remove the cake from the pan, turn it over on a platter and wrap a hot kitchen towel (I run very hot water over the tea towel then wring it out quickly) around the sides of the pan, keeping it just long enough to detach the cake from the ring. Remove the ring, then lift the bottom of the pan using the parchment paper. Immediately return the cake to the freezer for at least 30 minutes.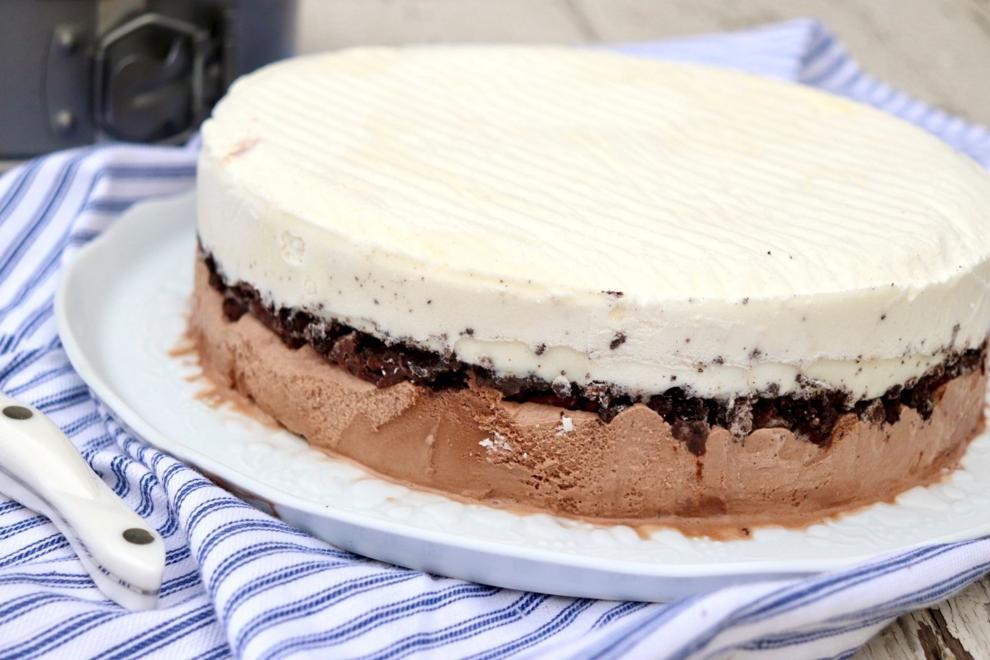 Spread the whipped topping over the cake, working quickly so that the ice cream does not melt. If it gets soft, which can happen quickly, especially in hot weather, put it back in the freezer to firm up.
Decorate with reserved cookies or sprinkles, if desired, and return to freezer.
Take the cake out of the freezer 5 to 10 minutes before serving, depending on how long it freezes and how cold or cool the room is, to soften it enough to slice.
A hot, dry knife will produce the cleanest cuts.
To do this easily, dip the knife in a tall glass of hot water, wipe it dry with a towel, and cut a slice.
Repeat before cutting the next slice. Enjoy!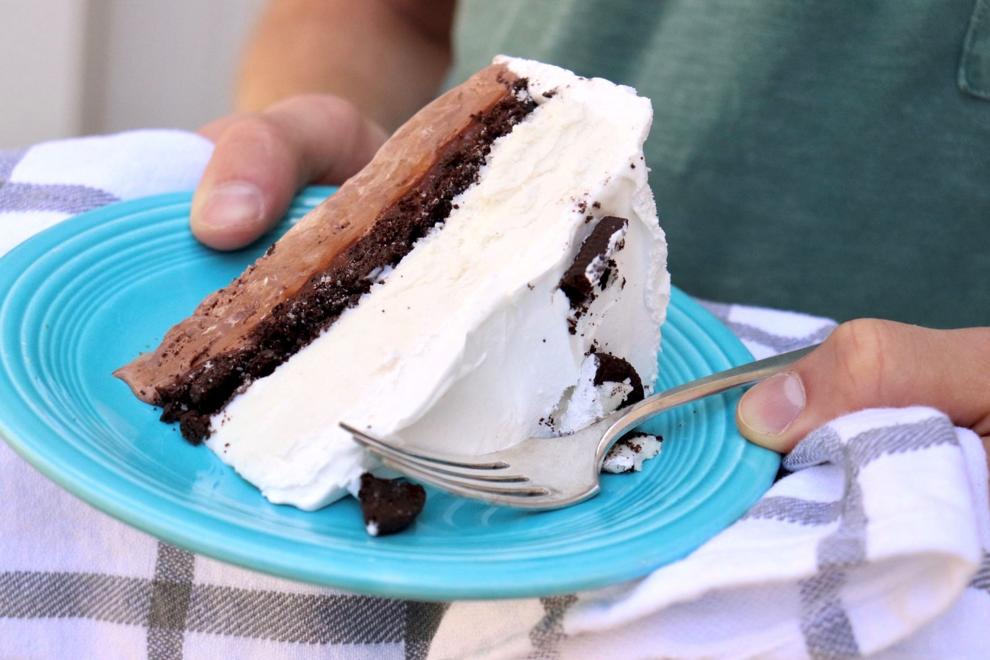 Remarks:
• I usually stick with classic vanilla chocolate ice cream, but you can substitute your favorite ice cream flavors.
• I place the cookies in a zippered bag (an empty cereal bag is also fine for this purpose) and crunch them with a rolling pin or can of soup. I'm aiming for coarse crumbs with slightly larger pieces.
• I made a gluten free version of this cake using an 8 ounce packet of KinniToos Chocolate Sandwich Cream Cookies, with great success. Last time around, my husband (who is a huge fan of Oreos) said that gluten-free cookies hold their crunch better than Oreos. You can't go wrong with either one.
• Sometimes I reserve 2-3 cookies and sprinkle the crumbled pieces on top of the finished cake for decoration. I have a hard time writing "Happy Birthday" or something similar in the middle of the peaks of the creamy frosting, so I tend to keep the ornaments simple. A dusting of colorful glitter provides a whimsical and festive option.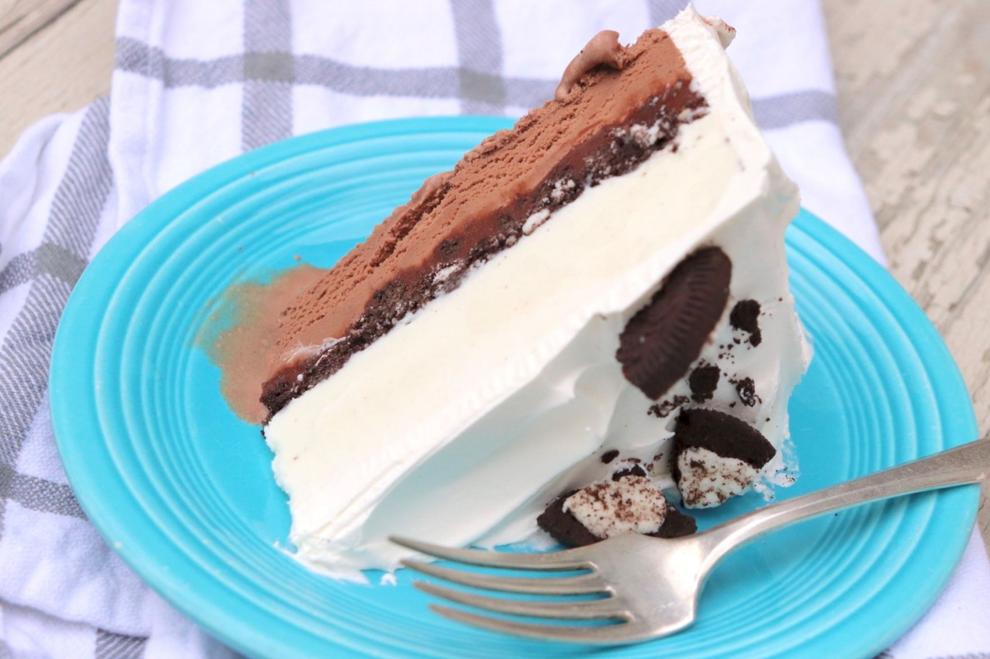 Tips:
• Make sure you have room in your freezer for the serving plate with the iced cake on it.
• I tried plastic wrap instead of parchment to line the pan, but it does not adhere well to the metal. Since the parchment does not mold in the pan, it is best to use it to line the bottom of the pan only.
• I recently tried covering the pan with a large sheet of aluminum foil, thinking that it might be easier to remove the cake from the pan. It has worked well and is a great method when it's hot outside and you don't want to apply heat to the pan to release the cake. The only downside to this method is that the foil tears when removed, so you need to make sure that there are no small pieces of foil sticking to the cake before frosting it. .
• Freeze the serving dish before unmolding the cake. This prevents the bottom of the cake from softening on contact and slipping on the tray.
• Leftovers keep very well. To cover without spoiling the whipped topping, place the cake, uncovered, in the freezer until the filling is refrozen, then wrap lightly in foil or cover with a large bag (a clean plastic grocery bag). works very well).
Serving a large group?
Recently, I wanted to double the recipe for a large group. My first thought was to use a 9 x 13 inch metal cake pan. The depth, however, is not enough to completely double the recipe and achieve the desired thickness for each layer.
I ended up baking two separate cakes in my springform pan, which is easy to do if you plan ahead. Also, since I only have one cake plate, I cut out a round from sturdy cardboard (slightly larger than the cake) and wrapped it in foil. I then used it as a base on which to freeze my first cake.
Serve a small group?
I made individual versions using 8 ounce ramekins that were just under 2 inches deep and 4 inches in diameter. You can use something similar.
Removal is slightly more difficult, so it helps to line them up and use the overhang (and the tip of a table knife if necessary) to remove it.
Transfer to a plate or dish lined with parchment paper so they can be easily moved when ready to serve.
For an 8-ounce ramekin, I use a little over 1/3 cup of ice cream of each flavor and about 2 tablespoons of cookie crumbs and fudge sauce. You can observe these measurements.
Have questions or comments about the Ann Fulton column? Check out his blog on Fountainavenuekitchen.com or on facebook.com/thefountainavenuekitchen. She also accepts e-mails at [email protected]