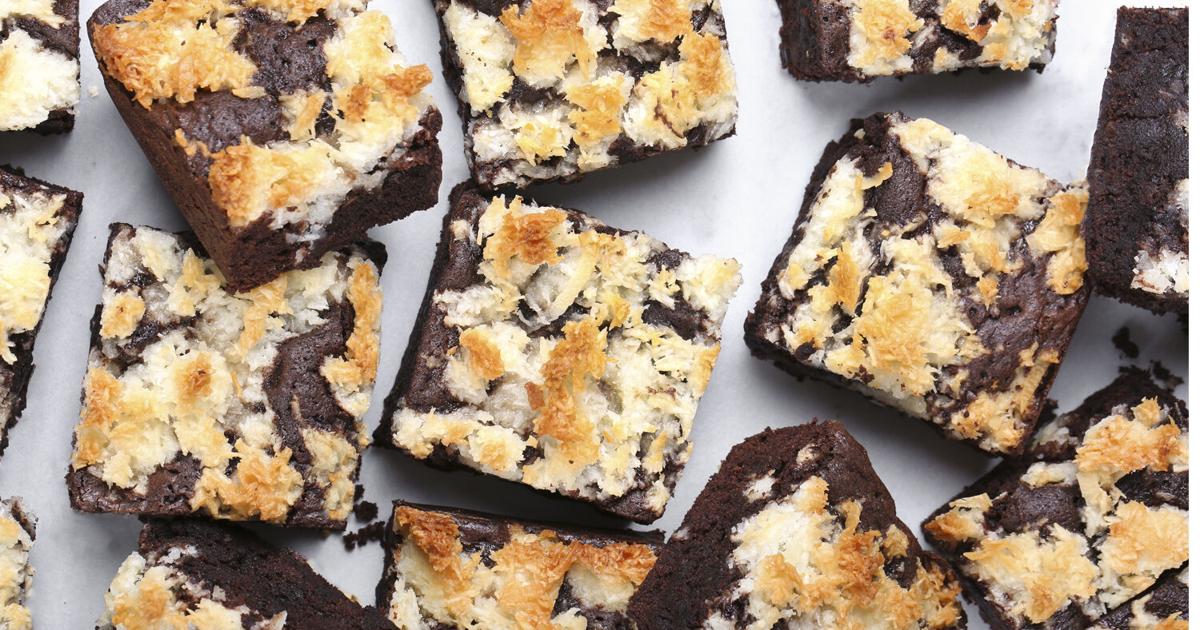 Coconut Macaroon Brownies | Receipts
Dark chocolate and coconut are the perfect combination. Here, the classic chewy brownie has been reinvented with the addition of a sweet and crispy macaron filling. Mix up your brownie game with this delicious yet eye-catching duo.
Coconut Macaroon Brownies
3 large Egg whites
½ cup sugar
½ teaspoon vanilla extract
⅛ teaspoon kosher salt
2 cups unsweetened desiccated coconut (finely grated)
¾ cup all purpose flour
1 cup Dutch cocoa powderlike Valrhona
1 cup (2 sticks) Butter without salt
¾ cup 60% bitter chocolatechopped
1 ½ cups sugar
¼ cup light brown sugar
1 teaspoon kosher salt
5 large eggs
2 teaspoons vanilla extract
| Preparation – Coconut Macaroon Topping |
In a medium saucepan, bring 1 inch of water to a boil. In a small heatproof bowl, whisk together egg whites, sugar, vanilla and salt. Stir in coconut until combined. Place the bowl over the pot of simmering water, stirring constantly, and cook until the mixture is very hot to the touch and the sugar has dissolved (the mixture will loosen up as the sugar dissolved). Remove the bowl from the heat and let cool while you prepare the brownies.
| Preparation – Brownies | Preheat the oven to 350°F. Line a 9×13-inch metal baking dish with foil or parchment paper and lightly spray with nonstick cooking oil.
In a small bowl, sift together the flour and cocoa powder. Put aside.
In a saucepan, melt the butter over medium-low heat. Remove from the heat and stir in the ¾ cup of chocolate. Put aside.
In the bowl of a stand mixer fitted with the whisk attachment, add the sugars, salt, eggs and vanilla extract. Whisk over medium-high heat until thick and fluffy, about 9 minutes. Over low heat, pour in the butter-chocolate mixture and stir until well blended. Add the flour-cocoa mixture and mix until well blended. Scrape the batter into the prepared pan, spreading it in an even layer all the way to the corners. Sprinkle the macaron filling evenly over the top of the entire mold.
Bake the brownies for 35 minutes, until the coconut filling is deep golden brown and a toothpick inserted in the center comes out with only a few clinging crumbs. Remove from oven and place on a wire rack to cool completely. Transfer the brownies to a cutting board and cut into 2 inch squares. Serve and enjoy.