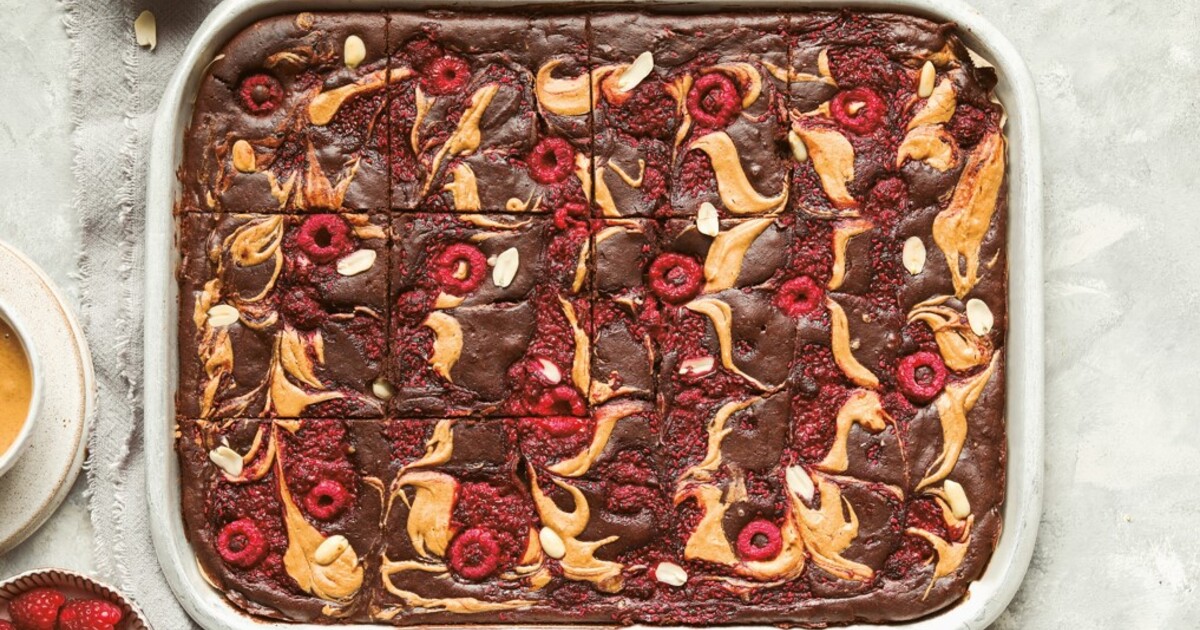 Chewy Vegan Brownies with Peanut Butter and Jam
These peanut butter and jelly inspired brownies One-Pan Vegan cookbook are a match made in heaven. Not only do they cook in half the time of a standard brownie, but the combination of peanut butter and brownie jelly is full of nostalgic goodness.
What do you need:
1¼ cup frozen raspberries
1¼ cup all-purpose flour
¾ teaspoon baking powder
½ cup cocoa powder
½ cup light brown sugar
1¼ cup vegan dark chocolate chips, melted
¼ cup vegan butter, melted
1¾ cups vegan milk at room temperature
1 teaspoon vanilla extract
⅔ cup creamy peanut butter, divided
⅓ cup fresh raspberries, halved
1 tablespoon peanuts, halved
What are you doing:
Preheat oven to 350 degrees and line half a baking sheet with parchment paper.
In a microwave safe bowl, place frozen raspberries and microwave in 30 second intervals until thawed. Mash until smooth.
In a large bowl, combine the flour, baking powder, cocoa powder and brown sugar. In another bowl, combine melted dark chocolate, butter, milk, vanilla, and ⅓ cup peanut butter.
Pour the wet mixture into the dry mixture and mix well, then transfer the dough to a baking sheet lined with parchment paper. Use a spatula to even out.
Arrange raspberries on top of brownie mixture in lines, working the longest sides of the pan to the other.
Repeat with the remaining half of the peanut butter, so that it's spread just below each line of raspberry puree.
Use a knife to make lines from one short side to the other, then repeat in the opposite direction to create swirls. Top with fresh raspberry halves and peanut halves and place pan in oven to bake for 15-20 minutes, or until firm but still a bit gooey inside. Let cool 10 minutes before cutting into 12 portions.
JUST LAUNCHED!
Vote for the 2022 awards for the best vegan ice cream in the United States.
VOTE HERE
JUST LAUNCHED!
Vote for the 2022 awards for the best vegan ice cream in the United States.
VOTE HERE