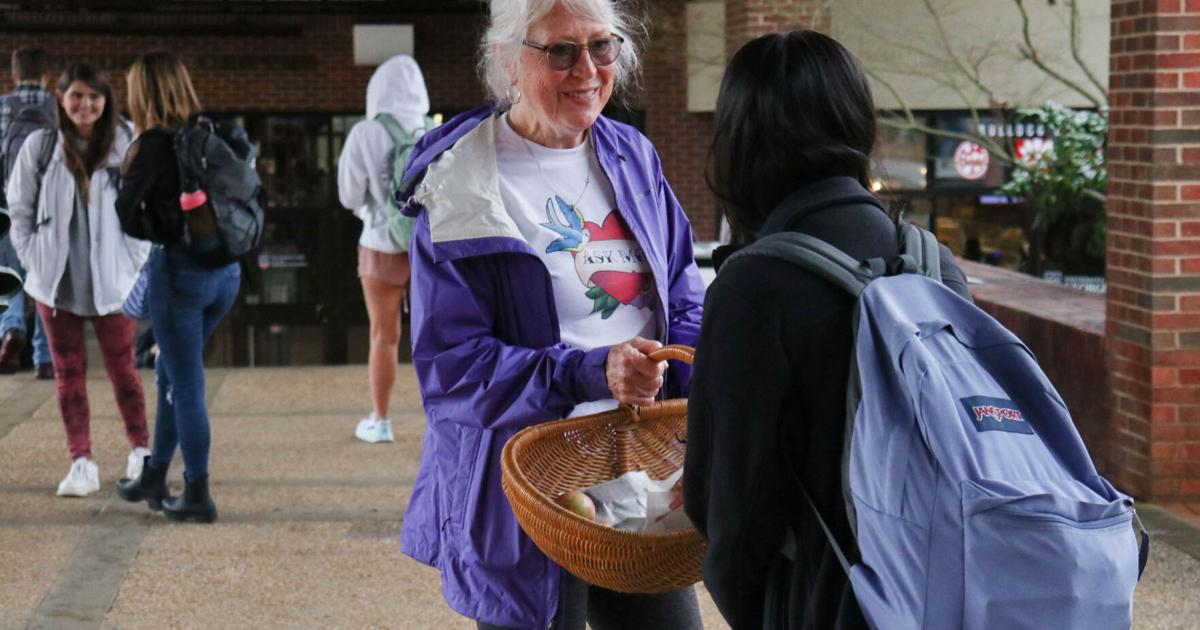 Ask Mom UGA bakes homemade cookies for students | Eat Drink
Every Wednesday afternoon from 1 p.m. to 3 p.m., the organization Ask Mom UGA can be seen handing out cookies and other pastries outside the Tate Student Center. The group includes nine mothers and a father who hand out cookies and advice to visiting students at the University of Georgia.
The group has a PageInstagram which features photos of their treats and expresses parent initiative to serve UGA students. During their weekly visits to the student center, Ask Mom UGA hopes to provide "snacks, cuddles, and/or mommy time," according to their Instagram bio.
As a staple of the Athens community for the past five years, the group has had to quadruple the number of cookies it makes. Emilie Buchalongtime member of Ask Mom UGA, has seen her popularity grow over the years.
The first time the group came to Tate, they only brought about 100 cookies, Bucha said. After the first year of the parents' initiative, the success made it clear that it was time to increase their inventory.
"I bake about 200 cookies every week," Bucha said. "We estimate we hand out around 1,000 cookies a week and hope we can last up to three hours, but we rarely make it that long."
Due to the different amounts of cookies each member makes, some make their cookies from scratch while others use pre-made dough. Each member spends a different amount of time baking their cookies.
"I use Toll House Break and Bake cookies, but some of the other moms make their [own] stuff," Bucha said. "One of the girls said she would bake as many cookies as she could in about three hours."
Parents frequent the student center every Wednesday for more than just cookies. Many of them want to connect with UGA students and let them know there is someone there for them. For Bucha, this is the best part of being part of Ask Mom.
"Cookies are just kind of a hook," Bucha said. "The best thing is to meet with students and ask them, 'What can we do to encourage you today?' or be with students. We just want them to know there's a mom on campus who's thinking of them when their mom isn't around.
Typically Ask Mom members only hand out cookies outside the Tate, but they will soon have a permanent stand like many other UGA affiliates. Dick Wallace, the first father member of the group, is excited about this new development.
"We're going to have a retractable banner with the logo soon, which will give everyone some kind of focal point," Wallace said.
Ask Mom members have gained popularity on campus and are attracting many students with their free treats. For students like Grayson Schofield, a freshman in entertainment and media studies, Ask Moms is a nice change of pace from other organizations that typically advertise outside of the student center.